Cloud Migration Has Ended Enterprise Datacenter

Over the last few years, enterprises have increasingly shifted away from traditional data centers. For example, in late 2019 Gartner famously predicted that 80% of enterprises plan to shut down their traditional data centers entirely by 2025. Cloud migration is a major trend industry analysts have kept a strict eye on and it has called for a whole new set of best practices for enterprise cloud security.
Just a few months after Gartner's announcement, the global pandemic hit, causing cloud migration to accelerate even faster. According to a new study from IDC, 80% of enterprises now plan to expedite their shift to cloud-centric infrastructure operated by cloud service providers and colocation specialists to take advantage of economies of scale while freeing IT from having to manage infrastructure internally.
It's clear that the public cloud is going to emerge as the dominant computing platform in 2022 and beyond. Companies will also become increasingly reliant on multi-cloud services as they migrate on-prem workloads to the cloud to take advantage of the best of each provider (e.g., AWS and GCP) to support hybrid working and remote collaboration.
From an enterprise cloud security perspective, we could be in for a wild ride in 2022 as enterprises continue to move systems and workloads haphazardly to the cloud without taking proper security measures – which many do. If we can give you one word of advice: incorporate security into your cloud migration. It is easier to plan than it is to backtrack.
For years, enterprises have struggled to contain data inside of their own borders. Now, they are operating in distributed work environments with multi-cloud strategies — a dangerous combination for those that haven't put security first.
The good news is that it's possible to mitigate risks during your cloud migration. You just need to take some basic precautions. With that in mind, let's take a closer look at how this can be accomplished.
Tips for achieving enterprise cloud security
1. Do your due diligence before migrating
Before migrating data or workloads to the cloud, make sure your team scours policies and procedures for each provider in question. While most leading cloud providers provide strong backend security measures, you can't leave anything to chance when using advanced storage or computing systems.
This is particularly important when using multiple cloud environments for similar processes, like object storage. For example, services like Blob (Microsoft) and S3 (AWS) both offer pre-flight and in-flight data protection with client-side encryption and TLS, but they have different post-flight security and key management policies. A multi-cloud environment is complex, which leads to unnecessary errors that could easily be prevented.
As such, it's vital to research cloud providers thoroughly before using them in order to prevent misconfigurations and errors that could expose sensitive data. It is easier to incorporate security into your plan than it is to backtrack.
2. Consider migrating in phases
If possible, you may want to split your cloud migration into phases. First, migrate your low-priority data before moving confidential information to the cloud — especially if your team is inexperienced with cloud migrations or you are transmitting highly sensitive material.
Taking a slower pace when migrating can give you more time to upskill your employees while reducing the likelihood of experiencing significant errors — like unknowingly leaving buckets unsecured.
3. Shift left
Migrating to the cloud requires a fundamental change in how your developers and security teams work together. In the past, security teams typically provided late-stage inspections and guidance before applications were moved into production. As a result, security was a bit of an afterthought — often leading to production delays, faulty software, and endless patching.
Today's agile development models require achieving agility and efficiency, but securely. The only way to accomplish this is to "shift left" by integrating security teams earlier in the development lifecycle.
For the best results, security teams should work alongside engineers, baking security into the framework of the application and creating apps that are inherently stronger and more secure.
4. Understand regulatory compliance requirements
When moving and processing data between physical networks and cloud environments, make sure your team has a firm understanding of all regulatory and compliance requirements. If your operations are international, you'll need to remember that countries tend to have varying requirements about where data can be stored and for how long (e.g. GDPR and CCPA).
That being the case, you need to consult with your legal team so that you are aware of any potential regulatory restrictions before moving any workloads or applications to the public cloud. Otherwise, your company could potentially face stiff penalties, hurting profitability while drawing the ire of regulators and consumers.
5. Use real-time monitoring
Over the next year, enterprise data collection will increase at a 42.2% annual growth rate. With so much data being stored in cloud environments, it's critical to have a framework in place for monitoring and detecting changes when data is at rest and in transit.
As such, companies need to use real-time monitoring and alerts to trigger automated actions when suspicious activity occurs. That way, they can rapidly respond to incidents and keep company assets secure.
6. Implement strong IAM and data governance
Enterprises also need to keep a tight watch on human and non-human identities with access to sensitive data and applications. It's easy to lose control over cloud environments when there are thousands of identities who have access to cloud systems. When you lose control of the big picture, it can be impossible to detect data breaches until it's too late.
The only way to prevent this from happening is to clamp down on identity and access management (IAM) and data governance. Companies should enforce least privilege security measures, tracking all identities across the enterprise and restricting access on an as-needed basis.
7. Use API security automation
The days of using GUIs to fix issues across thousands of accounts and identities are coming to an end. As such, companies need to move much faster when addressing security issues.
This can now be accomplished using an API available through the enterprise cloud security platform, Sonrai Dig. Using Sonrai Dig, companies can achieve DevSecOps automation at scale for lightning-fast responses to risk. 
Looking ahead toward enterprise cloud security
The public cloud will be a part of all our futures – our society is largely running on it. Many enterprises will use a hybrid or multi-cloud approach to running their business. However, the cloud cannot be utilized safely without the help of implemented security checks and controls.
Sonrai Security's product, Dig, offers multiple of solutions touching each facet of a secure cloud perimeter. This includes complete end-to-end automation for security workflows, remediation, and prevention. Using Sonrai Dig and leveraging CIEM, CSPM, Cloud DLP, and automation, an enterprise just starting their cloud migration, or one already there can harness the efficiency of the cloud safely.
To learn more about Sonrai Dig and how it can help your organization protect its cloud environment, request a demo today.
THE ARCHITECT
The Newsletter for Cloud Security Leaders. 1x a month.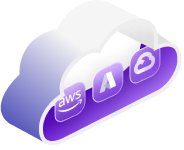 Get a Comprehensive Cloud Identity Audit
Request Your Audit