CSPM Tools Reduce, Prevent & Simplify Cloud Data Security

Companies must take utmost care to protect and monitor their assets when moving them into cloud environments. If you're already in the cloud, it's never too late to start using a CSPM tool. Luckily, recent advancements in cloud security posture management (CSPM) help to streamline cloud deployments, reduce blind spots, and eliminate vulnerabilities. For this reason, CSPM is a key technology to have on your radar in 2022.
Keep reading to learn more about what this solution entails and how it can help enhance your cloud security posture.
What are CSPM tools?
As a quick refresher, CSPM refers to a class of tools that identify misconfigurations in the cloud, and assist with their remediation, to reduce the overall risk in your cloud environment. Simply put, CSPM automates security assessments and help enterprises enforce best practices to strengthen their cloud security posture. Common, and often devastating misconfigurations including datastores directly exposed to the internet, logging not being enabled, and a lack of encryption.
Checklist for CSPM tool functionality
As we explain in our Cloud Security Posture Management Buyer's Guide, there are several kinds of CSPM tools on the market today with varying levels of features and capabilities.
Here's what an effective CSPM tool should provide:
The right CSPM platform should work off of a baseline of configuration and security best practices and continuously assess your cloud against it. This assessment should identify and rank the risks in your environment. These checks may include basic policies, like ensuring each account sends its logs to a secure log repository, requiring all admin users to log in with multi-factor authentication, and securing administrative identities, among other things.
With an intelligent solution in place, you can confidently establish and maintain a secure cloud foundation upon which your business can build. Without a secure foundation in place, all the great things you're doing in your cloud are at risk.
Top use cases for CSPM tools
Less data exposure
Legacy CSPM tools generate alerts for any permissive or exposed security group — even if the security group doesn't have any connection to an instance or if the compute instance doesn't have any true internet exposure. They provide no context and mostly just contribute to alert fatigue by flooding security teams with notifications that contain little value.
Next-generation CSPM tools, on the other hand, can zero in on overly-exposed resources and provide end-to-end visibility from any identity and data source — such as an AWS S3, EC2, DB instance or a Lambda console. They also provide deep visibility into the trust relationships between identities regardless of the compute instance location — whether it's in a public subnet or if the VPC has an attached internet gateway.
Agility
Enterprises today typically use a variety of IaaS and PaaS platforms in their cloud environments, and cloud providers release or update hundreds of new services every year. As such, security teams often struggle to protect the sheer volume of new resources developers are deploying, which results in blind spots. In some cases, developers may even be unable to use new cloud services until their security teams can secure them, which creates unnecessary conflict and stifles productivity.
Cutting-edge cloud security posture management tools should protect just about any cloud service including multi cloud environments. Security teams can offer support for new CSP services at the time of their release, giving developers the freedom they need to use any cloud service while maintaining needed security measures.
Drift detection
Cloud configurations can change — or drift — over time, creating security vulnerabilities.
Modern CSPM tools help avoid this by offering drift detection.
Drift detection leverages machine learning to analyze patterns and detect abnormal traffic to identities. This technology can thwart malicious data exfiltration attacks.
Anomalous provisioning
Cybercriminals often target resources like VMs for nefarious purposes like cryptojacking, which allows them to rake in profits using private computing resources without permission.
CSPM tools can help here, too, by detecting abnormal behavior and enabling your company to shut down suspicious activity — thereby saving money and reducing risk. It's now also possible to analyze permission use alongside data to minimize false positives. This is all part of CSPM's continuous monitoring.
Compliance assistance
Imagine a user combines an AWS EC2 instance with a non-compliant image and impacts your organization's cloud compliance posture. The change may violate your company's own internal security baselines as well as PCI regulatory benchmarks.
As a single resource, such an incident might be easier to detect. But in a typical environment with thousands of resources, it's very difficult without the right tools in place. Once again, a cutting-edge CSPM would be able to identify the EC2 instance as non-compliant and remediate the issue.
Protection against non-human identity exposure
Let's say a developer uses the Lambda function to configure settings and add triggers to another service that the Lambda function integrates with, such as DynamoDB. As part of this setup, the developer must define which components they want to use (e.g., Lambda code, APIs, DNS, database, and static web pages) and define the permission policies regarding how these components interact with one another.
It's easy to make a mistake when defining resource-based and execution role policies and opt to "allow all actions for everybody." While this is an easy shortcut to get serverless components to communicate with each other, it creates a clear security violation — and one that is very difficult to detect. Making matters worse, the mistake will propagate across the environment every time you use the function.
With the right CSPM solution in place, you can detect this type of security violation and offer recommendations for remediation.
Customizable object-level scanning for non-human identities
Using a CSPM solution, you can go beyond mere configuration checks with cloud storage services to gain deeper visibility and control over your data.
Your CSPM tool should allow you to select which controls you need for scanning person and non-person identities, like AWS S3 buckets or even specific objects. Not only does this CSPM functionality save significant time and resources, it can also lower alert volumes and potential false positives.
Centralized view
To properly address security posture in the cloud, you need a macro view of risk and drift levels.
A CSPM platform helps here, too, by providing a centralized view of all your data and identities in one place. As a result, you won't miss any critical misconfigurations, policy violations, and mistakes.
Experience Sonrai's approach to CSPM
Sonrai monitors billions of cloud resources for global enterprises by aggregating data and machine learning (ML) to streamline misconfiguration remediation, drift detection and compliance enforcement. Using Sonrai, enterprises achieve greater visibility into their cloud environments, with more context for security alerts and investigations.
With Intelligent CSPM from Sonrai, your company can unify compliance and configuration monitoring.
Gartner classifies Sonrai as a leader in its CSPM Innovation Insight Report, indicating we're a provider that's helping businesses implement cutting-edge intelligent cloud security posture management projects.
To learn more about how Sonrai can help your business implement intelligent CSPM solutions to protect your organization from data breaches and misconfigurations, reach out today.
THE ARCHITECT
The Newsletter for Cloud Security Leaders. 1x a month.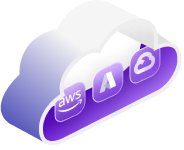 Get a Comprehensive Cloud Identity Audit
Request Your Audit