Your Guide to AWS Reinforce Location and Dates 2022

AWS Re:inforce will be here before you know it, so we wanted to formally welcome you to join Sonrai Security at this year's event. But first, let's cover some details:
AWS ReInforce Location
Plan on attending the conference in person? This year's AWS reinforce event will be held in Boston, Massachusetts according to the official AWS event site. The conference was originally slated for Houston, Texas, but the update is confirmed on the AWS site.
AWS ReInforce Dates
AWS Reinforce dates are July 26 through July 27th. That means two full days packed with cloud security thought leadership, activities, and certifications.
How is AWS Re:Inforce different from AWS re:Invent?
AWS re:Invent addresses cybersecurity, but it is a relatively comprehensive conference that covers a broad range of best practices and AWS services, features and tools. AWS re:Invent squeezes everything from cloud computing, databases, and storage to AI / ML, analytics, and security into an epic week of informative and educational sessions and activities.
Thousands of cloud professionals take over the city and sessions fill up very quickly. Because it covers the entire range of cloud computing on AWS, cybersecurity is just one small element—but it's a crucial element that deserves more attention.
Luckily, AWS re:Inforce fulfills its promises to be different. Not only does it focus on securing and protecting an AWS cloud environment specifically, but the conference intends to provide attendees with an educational experience and practical information they can use right away.
If you've been to re:Invent then you know it's a leading industry conference that covers all things cloud. This could include AI, Machine learning, cloud migration, cloud services, platforms, and AWS specifics. AWS re:Inforce, however, hones in on cloud security – a topic, we can always get behind.
Who should attend the AWS Re:Inforce conference?
There are a variety of facets to cybersecurity. It's helpful to be familiar with all of cybersecurity generally, but the real value of AWS re:Inforce comes from taking a deep dive into specific areas to get hands-on experience and tips you can put to use in the real world. To help attendees find the sessions and information they need, the conference sessions and activities are divided into different tracks, which you can find here when they are published.
We'd recommend anyone and everyone involved in AWS cloud security to be there. If you're interested in technical content, like developers or engineers, there's content for you. If you're on the business side of the house, like C-suite executives and decision makers, you're also encouraged. And we will be available on-site to meet with you.
Is there a cost?
Yes, a full conference pass is $1,099.
How can I get involved with Sonrai Security?
We're glad you asked. If you're attending AWS re:Inforce, and you want to learn how to protect identities, data, cloud platforms and workloads in the cloud, reach out to our Sonrai Security experts who can help you address the challenges of AWS security effectively.
Spark up a conversation on where the industry is headed, and what role CIEM and CSPM will play in cloud security. Or, even ask for a demo to see Dig in action. See you then!
For more information on the event, subscribe for updates.
Follow the conversations at #AWSSecurityInfo or #AWSreinforce
THE ARCHITECT
The Newsletter for Cloud Security Leaders. 1x a month.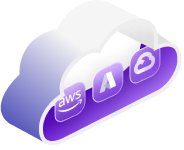 Get a Comprehensive Cloud Identity Audit
Request Your Audit