Reinforcing Your Azure Cloud Security Architecture

Migrating to a public cloud service like Microsoft Azure is a bit like buying a car with the latest safety features. Even with advanced technologies in place the operator still needs to buckle their own seatbelt, and be alert and responsible to avoid collisions.
When it comes to securing public cloud services like Azure, the same concept applies.
On one hand, Azure is safer than ever thanks to Microsoft's strong commitment to security and innovation. However, Azure — like most cloud providers — uses a shared cloud security architecture that requires businesses to play an active role in safety and compliance.
In other words, you can't just go on autopilot and hope for the best.
With all this in mind, let's take a closer look at what the azure cloud security architecture is, why it's important, and some challenges that you may encounter when you begin setting one up.
What is Azure cloud security architecture?
Cloud security architecture is a direct extension of your company's overall cybersecurity policy. It's necessary when using services from cloud providers, including Azure, AWS, and Google Cloud.
While Azure contains several cloud-native security services — including Microsoft Sentinel for security information and event monitoring (SIEM), Defender for Cloud for cloud security posture management (CSPM), and Application Insights for application performance management (APM) — Azure's security tools will only take you so far.
It's also necessary to go a step beyond and protect your public cloud environment with a comprehensive security architecture that aligns with your organization's unique security strategy.
Why is cloud security architecture important?
Migrating to the cloud can be a big change for an organization — especially from a security perspective. It requires expanding beyond borders and moving assets into external cloud servers. Even with Azure's built-in security tools, this can still be very risky.
By having a cloud security architecture in place, your company can have an easier time responding to threats that could otherwise avoid detection.
For example, security configurations can change over time. With a robust cloud security architecture with real-time monitoring in place, you can discover configuration changes and tighten your settings to prevent harmful activity from taking place.
Strong security architecture can also help protect against issues like insider threats, data sprawl, and privilege escalation, among other things.
Common cloud security architecture challenges
Despite the clear and present need for a strong cloud security architecture, many organizations are still failing to protect their public cloud environments.
Poor visibility and control
Companies often struggle with a lack of visibility across their cloud resources. Without deep visibility into your environment, it can be very difficult to maintain security and operational stability.
Data sprawl
Data sprawl — which is very common in environments today — occurs when employees store data across numerous devices and systems. When this happens, it can be very difficult to track and secure information.
Lack of compliance
Organizations today face an ever-growing list of regulatory protocols, such as the EU's General Data Protection Regulation (GDPR), the Health Insurance Portability and Accountability Act (HIPAA), and the Payment Card Industry Data Security Standard (PCI DSS), among others.
Unfortunately, not all cloud platforms comply with specific industry regulations. As such, it's important to be selective about the cloud services you deploy and make sure they meet your company's requirements. Otherwise, you could face stiff fines and penalties from government regulators and watchdog agencies.
Data breaches
Most cloud data breaches don't result from underlying infrastructure. Rather, they stem from human errors like misconfigurations, open resources, and insecure policies. Luckily, you can significantly reduce data breach threats by improving visibility and tightening control over resources.
Weak identity access management (IAM)
Businesses often lose track of human and non-human identities in the public cloud, especially as roles and responsibilities change over time and team members come and go. When companies lack a strong approach to IAM, cybercriminals are able to exploit these weaknesses and assume potentially privileged identities. Once they've done this, they can access the company's private systems and databases.
Sonrai: A flexible approach for cloud security architecture
The good news is that it's possible to address all of the above-mentioned challenges and work off the azure cloud security archiecture in one effort. You just need the help of a dedicated cloud security platform.
When searching for a cloud security platform, it's important to find a flexible solution that can work across multiple cloud environments. This way, you can integrate new cloud solutions as you need to without having to worry about compatibility issues.
Sonrai offers the Dig platform, which works seamlessly across multiple cloud platforms including Azure. Dig provides instant visibility into resource configuration and identities, giving you a bird's-eye view of your entire cloud environment, which makes it that much easier to protect it. If you're interested in Cloud Infrastructure Entitlement Management (CIEM), Cloud Security Platform Management (CSPM), Cloud Data Loss Prevention (DLP) and Automation solutions, Dig is your one-stop shop.
THE ARCHITECT
The Newsletter for Cloud Security Leaders. 1x a month.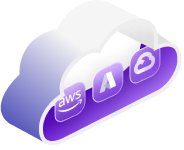 Get a Comprehensive Cloud Identity Audit
Request Your Audit