NEW YORK – January 14, 2022 – Sonrai Security, an enterprise identity and data security platform for AWS, Azure, Google Cloud, and Kubernetes has been recognized as a TMC 2021 Cybersecurity Excellence Award Winner, presented by Internet Telephony magazine. Sonrai Security's product Sonrai Dig, was recognized for its technology, but the award largely notes the exceptional implementation practices that accompany the product.
TMC CEO, Rich Tehrani, passed along his congratulations and noted that "The recipients represent perhaps the most important subset of the networking industry. Not only do I look forward to seeing their future successes, I thank them for protecting their clients from crippling attacks."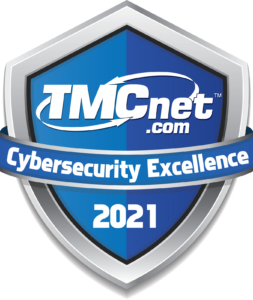 The award-winning solution, the Sonrai Dig platform, builds a comprehensive graph detailing every relationship between identities (person and non-person) and data that exist across cloud platforms, like AWS, Azure, GCP and Kubernetes. Analytics provided in addition to the graph allows users to understand risk, eliminate risk and monitor it continuously. Swimlane workflows enable escalations, certifications and risk-exception handling and provide role-based access control for workloads, teams, and cloud platforms to ensure adherence to policy. Sonrai Dig provides your cloud end-to-end protection with CIEM, CSPM, Cloud DLP and Automation solutions.
About Sonrai Security
We believe identity and data controls are central to securing your cloud. Your cloud is flooded with non-people identities, sprawling data, and imminent danger. It's why Sonrai Dig, built on patented graphing technology, perfectly maps all possible access and activities. This is how you automatically enforce least privilege, monitor access to crown jewel data, and automate CSPM. You get security far superior to anything possible before.
The company has offices in New York and New Brunswick, Canada and is backed by Menlo Ventures, Polaris Partners, and TenEleven Ventures. For more information, visit https://sonraisecurity.com/
About TMC and the Cybersecurity Excellence Award
TMC is a global integrated media company helping clients build communities in print, in person and online. Through education, industry news, live events and social influence, global buyers rely on TMC's content-driven marketplaces to make purchase decisions and navigate markets. As a result, leading technology vendors turn to TMC for unparalleled branding, thought leadership and lead generation opportunities
The company is based out of Norwalk, Connecticut.
The Cybersecurity Excellence Awards are focused on honouring the companies who are leaders in the market, consistently demonstrating the advancement of technologies. This year's winners present strong security products, but also provide best practices used to implement the network security.
For the complete list of winners, read the award announcement here.