FS-ISAC 2022 is around the corner, so we wanted to formally welcome you to join Sonrai Security at this year's event. First, let's cover the details:
FS-ISAC Location
This year's event will take place in Orlando, Florida for the Americas Spring Summit. For the Canadian Cyber Security Event, the event will be hosted in Toronto, Ontario.
FS-ISAC Dates
The FS-ISAC event falls on March 27-30, 2022 for the Americas event and on April 27th, 2022 for the Canadian gathering.
Event Details
The theme of the Americas Spring Summit is 'The new cyber era: hyperconnected & unbound.' This messaging resonates deeply with us, so we're looking forward to learning from our peers and sharing how we relate to the hyperconnected world of the cloud. The financial industry's sensitive nature only emphasizes how critical securing your identities and data is. 'Cybersecurity is now a business priority' – we couldn't agree more, FS-ISAC!
As of now, this event will be held in person. We're excited to leverage the benefits of in-person collaboration, so be sure to visit our booth at the event.
We'll be back to share more information on where you can meet up with our Sonrai Security cloud experts to chat, learn from, and even ask to schedule a demo and explore Sonrai Dig.
Registration for FS-ISAC 2022 is live, you can find it here.
THE ARCHITECT
The Newsletter for Cloud Security Leaders. 1x a month.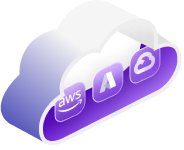 Get a Comprehensive Cloud Identity Audit
Request Your Audit